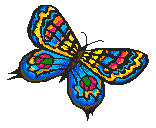 ---
Amejewel's
Musings,
Rants,
and
Other
Opinions

Welcome to my Haven on the web! 
Slip off your shoes and come on in!  
There's a fire burning in the fireplace, there's great music 
on the stereo, and we can talk 
about anything in the world.  
Here, you'll see what my latest musing, rant, or 
other opinions are, updated weekly. 
 Feel free to sign the guest book, email me, or 
just wander on through. 
 Who I am will show up in 
the words on this page.  
Let's get to know each other!

5-14-99
Came across a poem today, 
written by Robert Blandings.  
I'd say it just about sums up my life in
 a well-written poem (just change the gender, 
and this could be my life!)

THE DOUBLE LIFE
How very simple life would be
If only there were two of me:
A Restless Me to drift and roam;
A Quiet Me to stay at home.
A Searching One to find his fill
Of varied skies and newfound thrill,
While sane and homey things are done
By the domestic Other One.

And that's just where the trouble lies,
There is a Restless Me that cries
For chancy risks and changing scene,
For arctic blue and topic green,
For deserts with their mystic spell,
For lusty fun and raising Hell.
But shackled to that Restless Me-
My Other Self rebelliously
Resists the frantic urge to move.

It seeks the old familiar groove
That habits make.  It find content
With hearth and home -- dear prisonment,
With candlelight and well-loved books,
And treasured loot in dusty nooks.

With puttering and garden things
And dreaming while a cricket sings.
And all the while the Restless One
Insists on more exciting fun:
It wants to go with every tide,
No matter where...just for the ride.
Like yowling cats the two selves brawl
Until I have no piece at all.

One eye turns to the forward track,
The other eye looks sadly back.
I'k getting wall-eyed from the strain,
(It's tough to have an idle brain)
But One says "Stay" and One says "Go"
And One says "Yes" and One says "No".
And One Self wants a home and wife
And One Self craves the drifters's life.

The Restless Fellow always wins..
I wish my folks had made me twins.

---
My Pick-o-the-week Links of great places to visit
"The Courage to be Ridiculous Before God"
Where you can look for me in Mt Shasta or other chat rooms to discuss spiritual topics
Prepare to spend a couple of hours of brain-itching reading!
Explore the paranormal with Art Bell
My other web page -- just for fun
A place to find discussions, chats, services, and other spiritual pursuits
Do a search on anything from "crystal balls" to "spirit" and you'll find something to bid on! It's fun, but watch out, it's addictive too!
You'll find every spiritual link under the stars here, which lead to more links, which lead to more...you get the picture!
Lotta links, lotta fun, lotta PINK background (warning: wear sunglasses)
The most amazing web graphics designs you'll ever see!
A little visit to Elko, Nevada will change your perspective on life in a small town
---
E-mail Amejewel at:
---

This page has been visited
times.

---